You'll find hundreds of polygons
to drag anywhere you want.
(Try dragging the samples above!)

If you cannot drag a shape, try again in a different spot. Be sure to drag the bottom edge or a side edge of each polygon, but not an angle. Each polygon has a transparent (invisible) rectangle surrounding it, and the invisible corners and edges may cover parts of other polygons, especially angled edges.

You can change the background color of the Polygon Playground, too. Just click on a color square in the top left corner.

When you want to start a new picture at the Polygon Playground, just hit the Refresh button, or hit the back arrow and then the forward arrow.
You can try these ideas and more
at the Polygon Playground!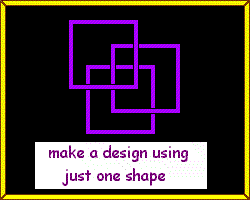 Explore symmetry, tessellations, and much more!