Follow the Leader! ... (Can you hop like a bunny??)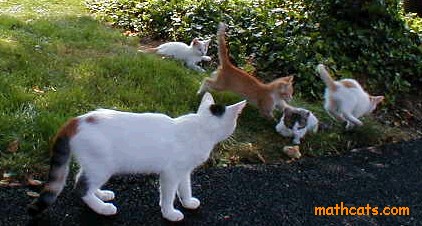 How fast can rabbits move? How fast can cats move?


Which is faster? How much faster?




Think first. Then wave your mouse over the magic chalkboard for the answer.
If you can't see the answer, click here.

A note about speed: We often use "miles per hour" or "kilometers per hour" to talk about speed, even if we are not measuring the speed for an hour.
Nolan Ryan's fastest pitch in baseball was 101.4 miles per hour, but it only had to travel 60.5 feet... it didn't travel 101.4 miles! Rabbits and cats never hop, run, or scamper for a solid hour... they do it in short bursts of energy.
© copyright 2004 - Wendy Petti of Math Cats. All Rights Reserved.
The photos and other content at Math Cats may not be used on any other website (or anywhere in the "real" world!).